PLEASE NOTE THE 2020 CORKSCREW WATERSHED SCIENCE FORUM HAS BEEN CANCELLED.
In order to protect the health and well-being of our staff, volunteers and visitors and to help stop the spread of COVID-19, we are cancelling the 2020 Corkscrew Watershed Science Forum (previously scheduled for April 3, 2020). Thank you for your understanding.
The 60,000-acre Corkscrew Regional Ecosystem Watershed is dedicated to the preservation of water resources and natural communities. A variety of agencies and organizations assist with this cooperative effort including Audubon's Corkscrew Swamp Sanctuary, the South Florida Water Management District, the Florida Fish and Wildlife Conservation Commission, the CREW Trust, and Collier County, among others.
Begun by our science staff in 2015 and held at Corkscrew Swamp Sanctuary, this one-day meeting brings together scientists working within the Corkscrew Watershed to present their work to their colleagues, policy staff, decision makers, volunteers and the general public. This meeting provides a platform for scientific presentations, as well as opportunities for networking, productive discussion, and building collaborations.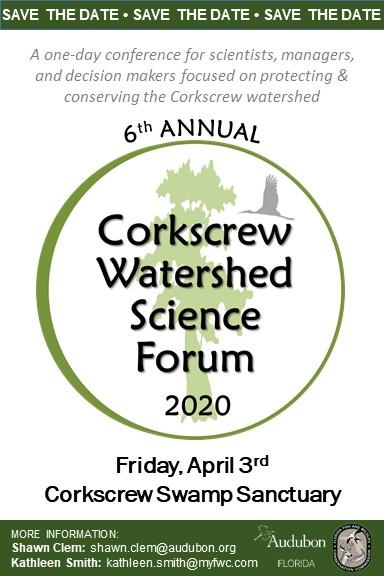 How you can help, right now