Visit
Visit Corkscrew Swamp Sanctuary
We're open 365 days a year! Visit from 8 a.m. to 3 p.m. with the last admission at 1 p.m. From December 16 through April 30, visiting hours are extended until 5 p.m. with the last admission at 3 p.m.
With exhibits, artwork, and bird-friendly gardens, the Blair Visitor Center serves as the gateway to an enchanting wilderness with giant cypress trees that have lived here for nearly 600 years.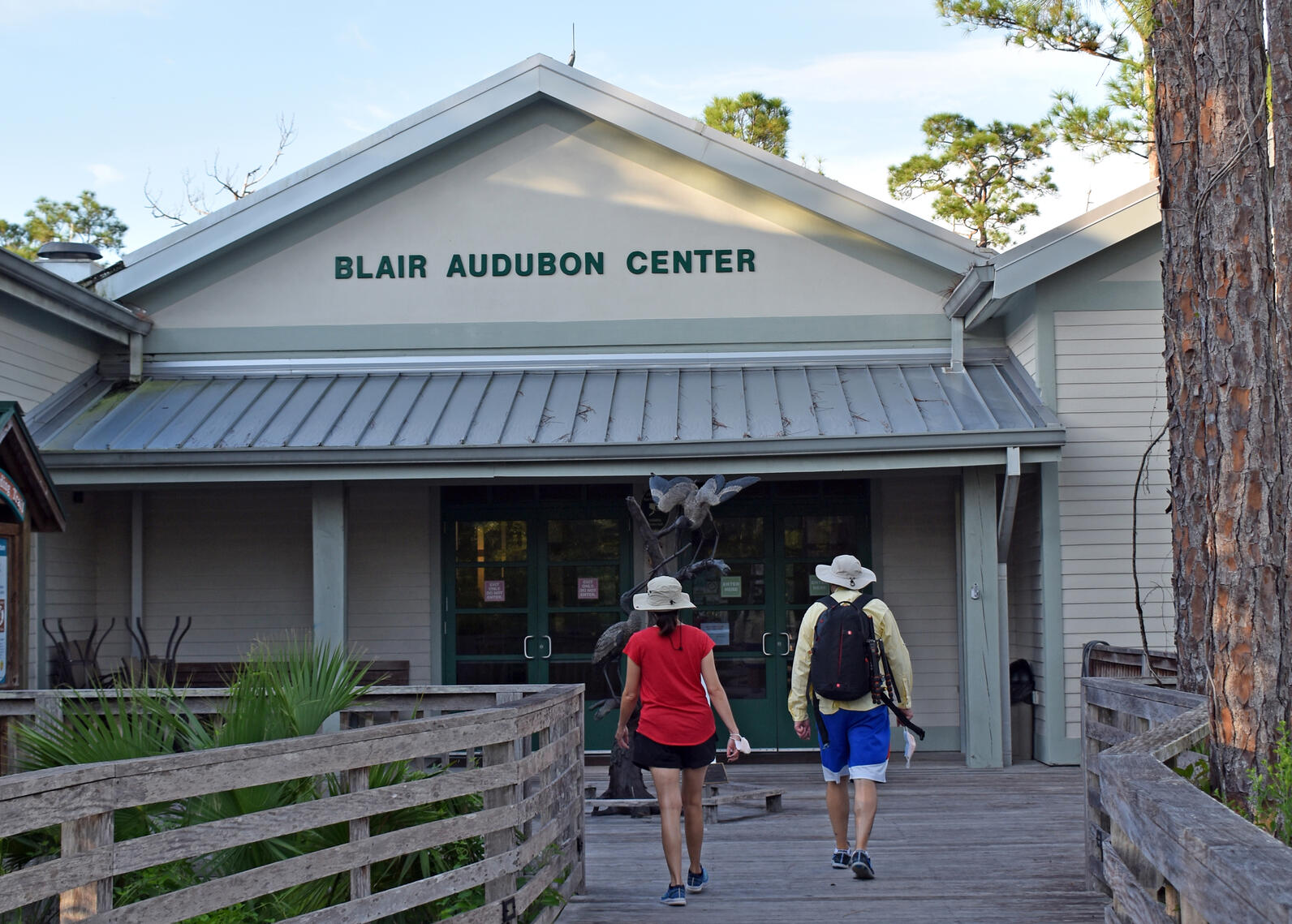 Located at 375 Sanctuary Road W. | Naples, Florida 34120
For General Admission and Member Tickets: CLICK HERE
Members enjoy unlimited visits to the boardwalk. Join today!
Admission Fees:
General admission: $17

Full-time college student (with valid school ID): $10

Children 6 to 14: $6

Children under six: FREE

Members of the US Military (with ID): $14

National Audubon Members (with ID): $14
*NO SAME-DAY REFUNDS. No-shows are not refundable. If you've purchased a ticket and need to change it or cancel in advance, contact cssnaturestore@audubon.org to request assistance.
Walk-ins are possible, however, if tickets are sold out you will not be able to enter.
NEW! Free guided boardwalk tours, included with regular admission, are now offered every Sunday from December through March at the following times: 10 a.m. | 10:30 a.m. | 11 a.m. | 11:30 a.m. Tours last between 45 minutes to 1 hour and are led by Volunteer Boardwalk Naturalists. Participants must be physically present to sign up for tours.
Explore the Boardwalk!
Download a high-resolution PDF copy of the boardwalk map.
Group Visits
If you are coming with a group (e.g. club, class, tour group) and have a party of 20 or more adults, select the group admission discount rate when you are reserving your tickets.
Arrangements can also be made for guided tours for groups of 8 to 14 participants, please contact corkscrewtours@audubon.org at least three weeks before your visit.
Corkscrew Swamp Sanctuary Members
Members need to login to their account to make reservations for free boardwalk visits. For assistance, contact Kathy Howle.
Click here to see a listing of our upcoming public programs!
Important Information for Your Visit
The Cafe is OPEN DAILY from 10 a.m. to 3 p.m. Click here to see the menu.
The Nature Store offers gifts and souvenirs. You can also visit our online Nature Store!
On-site public programs are now available here.
Florida's high heat and humidity can catch Sanctuary visitors off guard – stay hydrated throughout your visit. Water refilling stations are available near the restrooms.
Outdoor picnic tables are available in the parking area.
If you are feeling sick, please postpone your visit to when your symptoms have cleared.
Visitors are encouraged to bring sunblock and bug spray.
Parts of the boardwalk may be slippery at times. Watch your step, and wear footwear with traction.
Download the children's scavenger hunt activity sheet.
Please lock your car and take all valuables with you.
If you arrange a taxi or Uber for transportation TO the Sanctuary, be sure to also pre-arrange your return trip.
Several days a week, skilled and passionate Boardwalk Naturalists wearing khaki-colored uniforms are out on the boardwalk, ready to answer questions and point out sights and sounds of the swamp for visitors.
On Monday mornings (and as needed) from 8 to 11 a.m., visitors may encounter our volunteer boardwalk maintenance team as they sweep, clean, or perform other functions vital to maintaining our world-famous wooden boardwalk. Visitors may experience some noise during this time.
Wheelchairs can be made available upon request free of charge. Binoculars are available for rent for $3.50.
Boardwalk Rules
No food on the boardwalk

Do not feed, chase, or use playback to attract wildlife

All plants and animals are protected - take photographs only

Remain quiet for best wildlife viewing

Stay on the trail

Children must be supervised

No bicycles or scooters (except for those assisting with mobility)

No pets: ADA service animals only

Leave trail during high winds and lightning

No smoking

Do not litter

No running

Drones are not permitted

​All visitors must be off the boardwalk by 3 p.m. Unauthorized vehicles found in the parking area after 3 p.m. may be towed at the owner's expense.
Inclement Weather
Tickets are not refunded for light rain, however, in the event of severe or unsafe weather, the boardwalk may be closed and programs canceled. In this case, tickets can be refunded or transferred to another day and time. Call 239-348-9151 or email cssnaturestore@audubon.org.
If caught on the boardwalk during a lightning storm seek shelter. There are five marked rain shelters spaced along the boardwalk. The Blair Visitor Center is a safe indoor waiting area.
Thank you for visiting Corkscrew Swamp Sanctuary!
The Blair Audubon Visitor Center phone number is 239-348-9151.
How you can help, right now
Become a Member
Join an extraordinary and growing community of members dedicated to supporting the conservation of natural ecosystems throughout the Western Everglades.