Visit
Visit Corkscrew Swamp Sanctuary
The Sanctuary is open daily at 8 a.m. with the last admission at 1 p.m. See below for online tickets.
With exhibits, artwork, and bird-friendly gardens, the Blair Audubon Visitor Center serves as the gateway to a gentle, pristine wilderness with giant cypress trees that have lived here for nearly 600 years.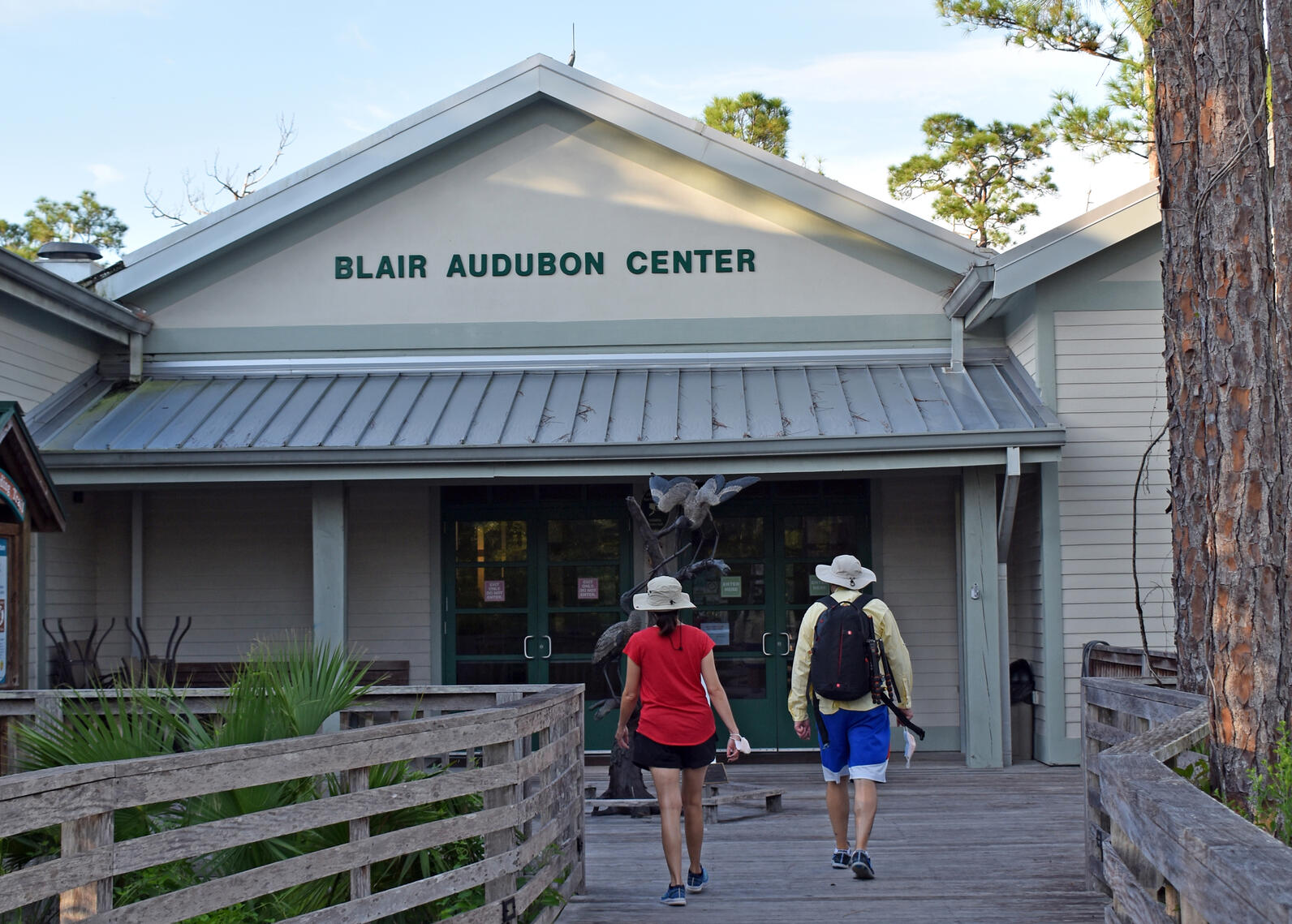 For General Admission and Member Tickets: CLICK HERE
Lee and Collier Residents enjoy HALF-PRICE admission starting July 1!
The Centers for Disease Control website currently shows Collier County as "low" risk for community transmission of COVID-19. Based on this community transmission level, people may choose to mask at any time. People with symptoms, a positive test, or exposure to someone with COVID-19 should wear a mask in public, indoor settings.
Timed entry daily 8 a.m. - 1 p.m. The boardwalk closes at 3 p.m. A Sanctuary team member will clear the entire length of the boardwalk to ensure everyone has safely exited by 3 p.m.
Several days a week, skilled and passionate Boardwalk Naturalists wearing khaki-colored uniforms are out on the boardwalk, ready to answer questions and point out sights and sounds of the swamp for visitors.
On Monday mornings (and as needed) from 8 a.m. to 11 a.m., visitors may encounter our volunteer boardwalk maintenance team as they sweep, clean, or perform other functions vital to maintaining our world-famous wooden boardwalk. Visitors may experience some noise during this time.
Wheelchairs can be made available upon request free of charge. Binoculars are available for rent for $3.
Admission Fees:
General admission: $17

Full-time college student (with valid school ID): $10

Children 6 to 14: $6

Children under six: FREE

Members of the US Military (with ID): $14

National Audubon Members (with ID): $14
Printed tickets are not required; however, if you have the ability to print your tickets it would be most appreciated. Our region is experiencing an internet outage and printed tickets help us with registration.
Friends of Corkscrew Swamp Sanctuary Members need to login to their account to make reservations for free boardwalk visits. For assistance, contact Kathy Howle.
*NO SAME-DAY REFUNDS. No-shows are not refundable. By purchasing your admission on this site, you are agreeing that any no-show is non-refundable. Contact cssnaturestore@audubon.org for refund requests.
Group Visits
If you are coming with a group (e.g. club, class, tour group) and have a party of 11 or more people, contact corkscrewtours@audubon.org to make arrangements for tickets. Arrangements can also be made for guided tours.
Important Information for Your Visit
Online registration is required for visitors and guarantees your time slot for entry.
Click here to purchase your ticket online.
Walk-ins are possible, however, if tickets are sold out, you will not be able to enter.
Temporary closures: Gallery Café and Discovery Center.
The Nature Store is open and offers light refreshments, snacks, and bottled water for purchase. You can also visit our online Nature Store!
On-site public programs are now available here.
Water refilling stations are available near the restrooms.
A complimentary wheelchair is available upon request.
Outdoor picnic tables are available in the parking area.
If you are feeling sick, please postpone your visit to when your symptoms have cleared.
Florida's high heat and humidity can catch Sanctuary visitors off guard – stay hydrated throughout your visit. Please bring your own refillable water bottle – we have a water refilling station available near the restrooms. Visitors are encouraged to bring sunblock and bug spray. Parts of the boardwalk may be slippery at times. Watch your step, and wear footwear with traction.
Boardwalk Rules
No food on the boardwalk

Feeding wildlife is prohibited - do not feed, follow, or harass wildlife

All plants and animals are protected

Quiet, please

Stay on the trail

Children must be supervised

No pets allowed

Leave trail during high winds and lightning

No smoking

Do not litter

No running

Drones are not permitted
Inclement Weather
Tickets are not refunded for light rain, however, in the event of severe or unsafe weather, the boardwalk may be closed, and programs cancelled. In this case, tickets can be refunded or transferred to another day and time. Call 239-348-9151 or email cssnaturestore@audubon.org.
If caught on the boardwalk during a lightning storm seek shelter. There are five marked rain shelters spaced along the boardwalk. The Blair Visitor Center is a safe indoor waiting area.
Other Considerations
​All visitors must be off the boardwalk by 3 p.m. Unauthorized vehicles found in the parking area after 3 p.m. may be towed at the owner's expense.
Please lock your car, and take all valuables with you. 
Phone Number: 239-348-9151
Thank you for visiting Corkscrew Swamp Sanctuary!
How you can help, right now