Program
Family Sunset Stroll
A short guided tour showcasing the evening activities of many creatures at the Sanctuary.
Monday, December 18, 2023
4:30pm - 6:00pm Eastern Naples, Florida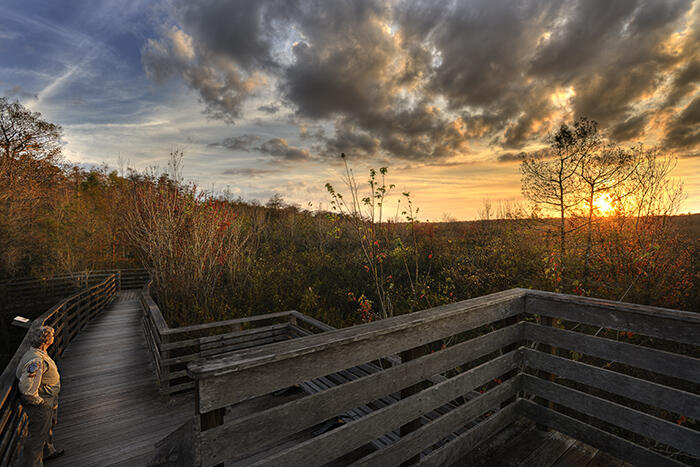 Location Details
National Audubon Society's Corkscrew Swamp Sanctuary
375 Sanctuary Road West, Naples, 34120, FL
Join us for our Family Sunset Stroll for families with young children. This program is also a good opportunity for anyone who wishes to take a shorter tour than our usual Sunset Stroll. We will travel one mile along our boardwalk, with fun activities along the way. This naturalist guided boardwalk tour leads you into the swamp as the day draws to a close. As twilight approaches many creatures are winding down their day as nocturnal creatures are beginning theirs. Watch sunset from one of our lakes, then listen to the changes in sounds as the day changes to night. Search for nocturnal creatures on the way back to the visitor center, and learn about some of their adaptations that enable them to be nocturnal. For the last half hour of this tour it will be fairly dark, with little or no moonlight. but that will make for better night sky viewing.
Start times vary according to the sunset time on the day of the program. When you register check for start time on the reservation date you choose.
Your naturalist will meet you in our visitor center fifteen minutes prior to the program start time. We will be walking the short loop of our boardwalk (1 mile in length). Family Sunset Strolls are about 2 hours in length.
Note: Participants should not bring white-light flashlights, as those ruin everyone's night vision. We will have red-light flashlights that we will bring along in case we want to use them.
Cost:
$35 per person General Admission, $15 per person for youth ages 5 to 16
Limit: 10 participants
Restrictions: Participants must be 5 years or older. Youth must be accompanied by an adult.