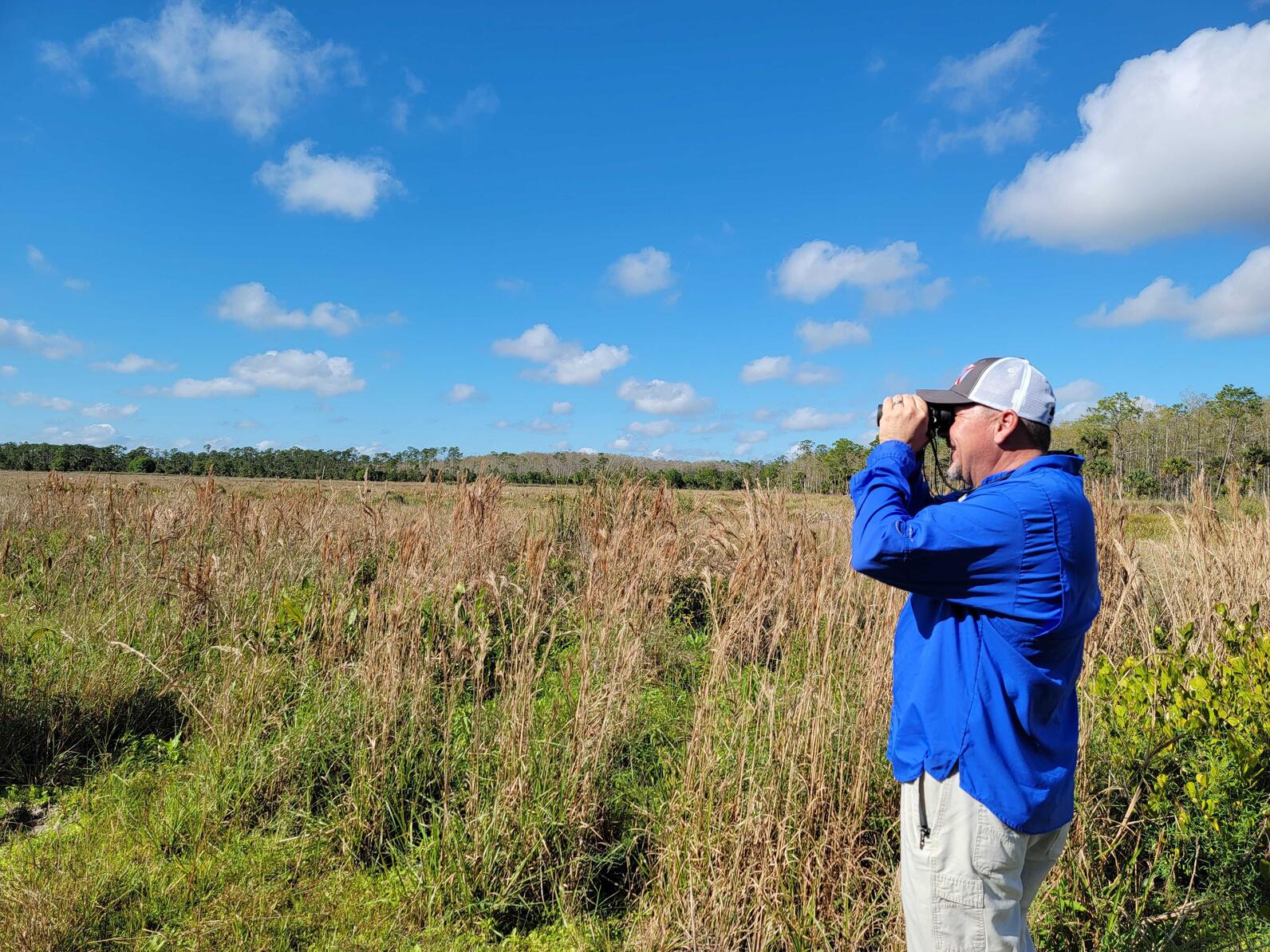 Keith Laakkonen joined the Audubon team on January 9 and has hit the ground running. While we already know he has experience in local land management, policy, facilities maintenance, and engaging visitors, he is also very big on birds. We caught up with him to ask some personal questions about his background, the Sanctuary, his "spark" bird, and birding at Corkscrew Swamp Sanctuary.
Please share a little bit about your background and especially your very interesting last name. How do you pronounce it?
I am an only child of Finnish and English/Irish descent. Growing up in southwest Florida, I did not come across very many people with a name like mine. I know it is difficult to spell and harder to pronounce. It sounds the most like "LOCK-a-nen."
What makes southwest Florida special to you?
It is very different from the east coast of Florida. It is an interesting ecology where you have relatively large, intact ecosystems and connected watersheds that go from cypress forest to the gulf. Everything is connected here.
Why is Corkscrew Swamp Sanctuary so important?
Initially, it was because of the size and age of the virgin cypress forest here that was protected by the community in 1954. But today, it is because these wetlands provide irreplaceable benefits to surrounding communities by recharging the aquifer, storing excess surface water, reducing the threat of catastrophic wildfires, and filtering freshwater before it flows into estuaries.
What excites you most about leading Corkscrew Swamp Sanctuary?
I'm super motivated to come to work every day and consider this a dream job. I love that everyone feels a personal connection to Corkscrew Swamp, whether that's because of the birds, the ancient trees, plants, or the restorative experience in nature and on the boardwalk. There are so many caring people in Corkscrew's realm, especially the amazing volunteers and supporters who dedicate their time and treasure to help us conduct our science and education work, which is so important for southwest Florida. Additionally, we have some big plans to elevate our work in a really significant way in the coming years, and I'm thrilled to be part of this transformational time for Corkscrew Swamp. I'm also a birder – so I'm in paradise!
Could you share some observations on your first weeks on the job?
Corkscrew Swamp has always held a special place in my heart, but it's grown on me so much more already. Being here every day now, I see the true impact it has on everyone – from the visitors that leave the boardwalk filled with wonder and amazement, to the kids who get to break out of their classes to spend time in nature, to our staff who come to work full of energy and dedication. Off the boardwalk, the restoration work we're doing in the backcountry is truly amazing. It is great to see how quickly after the willows are removed that the ecosystem has been responding, and the wildlife is also taking advantage of the new feeding areas. And, although the visual benefits are obvious when you see hundreds of wading birds, our research team is conducting sound science to measure the true impact on both water savings and habitat enhancement.
What is your most memorable moment from a Corkscrew boardwalk visit?
I would have to say seeing otters. A few years ago, I was birding when a family of otters came up on the boardwalk. The other visitors got so excited as the otters were going about their otter business of playing and resting on the boardwalk. Everyone (including me) was mesmerized. They literally shut down boardwalk traffic!
What was your "Spark" bird?
Snow Bunting! I had learned to identify shorebirds through my work at Fort Myers Beach and was thinking about getting into birding, but wasn't quite hooked, yet. In 2012, we were in St. Augustine, and I'd heard reports of a Snow Bunting at Cape Canaveral National Seashore. I had never heard of, let alone seen, one of those before, but when we arrived in the parking lot, sure enough, this bird was hopping through the area. I got great photos of it, submitted them to e-Bird, and was an instant sensation. I got hooked. The next day I heard there was a Eurasian Widgeon at Merritt Island National Wildlife Refuge, so we went there, and it was exactly where it was reported. I was thinking to myself, "well, wow, this is amazing!" I thought birding would be easy. Spoiler alert - it's not!
OK, so you're excited about the birds. Tell us why Corkscrew is such a good place for birding.
Any time of year, it's great to come out here and visit. We were out here walking on the boardwalk the other day and we hear this "thunk-thunk-thunk" and we know it is a Pileated Woodpecker. He's just hammering away up in that hole, and the splendor of that bird in this habitat symbolizes how amazing Corkscrew is. Another year-round resident is the Carolina Wren – you can't come to Corkscrew without hearing this tiny bird with such attitude and personality.
Is there a particular time of year when birding is best, in your opinion?
Oh yeah, it is during migration, for sure. If you've never been here for spring or fall migration when birds are coming through, you can have lots of species that are completely different from one day to the next, depending on what the weather is bringing us. The colors of the spring warblers are just spectacular – Cape May Warbler, Prothonotary Warbler, and Yellow Warblers are all amazing. I love seeing so many bright, popping colors on these birds coming through as they migrate back to their summer habitats and get ready to breed or head south for the winter.
Do you have a favorite "winter" bird?
Gray Catbird! In the winter, they are calling from everywhere – they're my favorite winter bird. This slick gray color – they're really interesting. Plus, they are excellent mimics. I heard one the other day that sounded just like a Flicker.
OK, you've talked about songbirds, but what about waders? When should someone visit to see them?
A really great time to visit is late spring when we experience a natural drawdown of the waters across southwest Florida. Especially in Lettuce Lake and along the boardwalk, visitors have an opportunity to see species that are symbolic of south Florida, such as Roseate Spoonbill and Wood Stork. They often feed in these low-water habitats, taking advantage of the fish concentrating in these drawdown pools. That time of year is so important for the life cycles of these species. In late April and May, you might have the opportunity to see the wading bird bonanza, also known as the "feeding frenzy," in late spring.