A vacationing couple visited Audubon's Corkscrew Swamp Sanctuary for the very first time – and created a lifetime memory. Surrounded by the magic of the ancient swamp, Kris Leksas proposed to Rosanna Falco on the world famous 2-¼ mile Boardwalk on September 14, 2018.
Rosanna, who lives in Chicago, and Kris, who lives in Indianapolis, had never been to Corkscrew Swamp Sanctuary, but Rosanna insisted they visit. My sisters have been there and absolutely love it," she said.
Why did Kris pick Corkscrew Swamp for this momentous occasion?
"He chose it because my sisters told him how beautiful and peaceful it was," Rosanna said, "and because I kept asking him to go while on this trip."
"I was definitely surprised." Rosanna added. The couple have been dating for three years.
The magical moment almost didn't happen at Corkscrew. The couple arrived at 4:35 p.m., five minutes after the 4:30 deadline for last admission to the boardwalk. Rather than turn away, Kris swung into action.
"Kris quickly typed on his phone that he was trying to propose to me," Rosanna said, "and then he showed it to the woman in the gift shop who quickly and secretly asked her manager if we could go in anyway. And the manager agreed! I didn't know at the time. I can't thank them enough for letting us break the rules and go in."
Afterward, Rosanna marked the occasion by buying a "This is my HAPPY PLACE" sweatshirt from the Nature Store inside the Blair Audubon Visitor Center. "I wanted a memento from the place where he proposed since it was such a wonderful place and memory. I also absolutely love my sweatshirt. I wore it on the plane ride home. It's so comfortable. Kris loves it too."
Do you have a special memory from Corkscrew Swamp Sanctuary? We'd love to hear your story. Please share it at:
Facebook: facebook.com/CSS1954
Instagram: Instagram.com/CorkscrewSwamp
Twitter: twitter.com/CorkscrewSwamp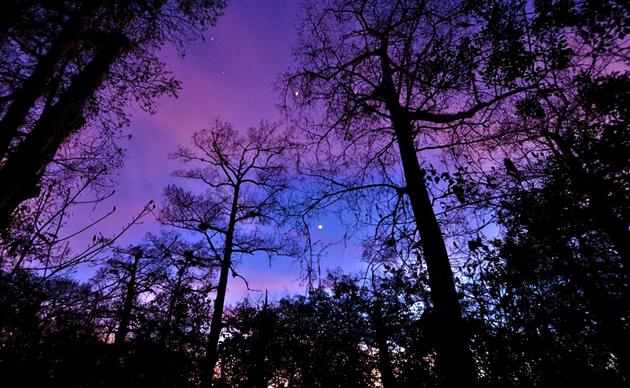 Corkscrew After Hours
Experience the world-famous Corkscrew boardwalk in the evening light and participate in educational programs, interpretive exhibits, and enjoy live music in the Blair Visitor Center.