Rental
Wedding in the Swamp
Testimonial by Ryan Young, a.k.a. "the Groom."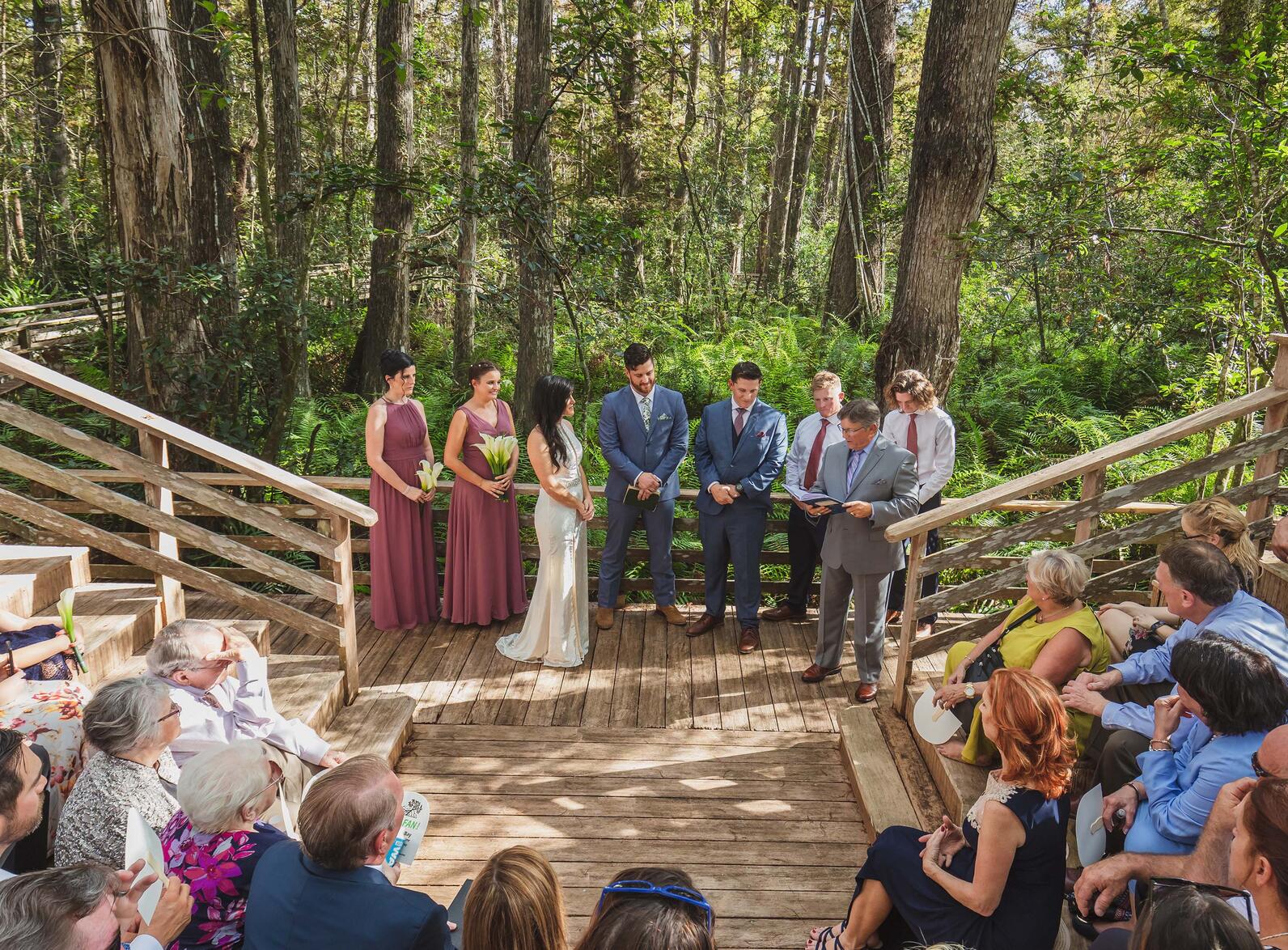 A wedding ceremony is traditionally held in a place of spiritual significance. Choosing the location where you will publicly proclaim one of the most significant promises of your life in the company of family and friends can be a difficult one… but it wasn't difficult for us.
As a Florida import from New Jersey, I spent my early Florida days getting to know the alien landscape. Having only ever visited Florida beaches and the home of its most famous mouse as a kid, I had not had the opportunity to explore the wild side of SWFL. At first, this state feels like a foreign country, filled with a plethora of scary things that play on the imagination of the unfamiliar, but take a closer look and the discoveries are endless. It was two consecutive summers working as an intern at Corkscrew Swamp Sanctuary where I found my first love…THE SWAMP!
There is nothing quite like strolling the boardwalk at Corkscrew in the presence of ancient cypress, beautiful landscapes, and abundant wildlife. The time I spent there helped me to connect with Southwest Florida's unique natural landscape and eventually feel like I was home. Being out at Corkscrew is stepping back in time and slowing to match the pace of nature, surrounded by infinite natural processes happening all at once. It is a place to observe, reflect, learn, and relax. If that isn't a place of spiritual significance…I don't know what is.
So, what place is more fitting to make a vow to the woman I love, a Florida Native, than in the place that made me fall in love with Florida? Our ceremony at Corkscrew was an incredible experience allowing us to share our wild backyard with our guests and provide them with an even better understanding of our love for one another. Our guests strolled on the boardwalk and quickly emerged into the open wet prairie before disappearing into a shaded cathedral-like entrance to the cypress slough. A grand welcome! The journey continues through the flooded forest, dappled light bouncing off the foliage, graced by only the sound of a light breeze and calling birds until reaching the C.L.A.S.S. amphitheater.
Surrounded by family, friends, and the all-knowing cypress, we made our promise to love and care for one another with the strength and longevity of the cypresses, themselves. With only the sounds of nature and our voices, it made for an amazing experience. One of our guests made a list of all the wildlife that was observed or heard during our ceremony and we absolutely love looking back at the critters that joined us that day!
It was important for us to share what we love about our home with those that were sharing in our special day. Our relationship with wild Florida helped to shape our love for one another and sharing that with our guests made it an experience that we will never forget.
Thank you, Corkscrew Swamp Sanctuary, for being such gracious hosts and providing the most beautiful venue on Earth for us to celebrate our big day!! It was already a special place to us, and now it holds even more memories that will be fondly looked back on for all time.
—Ryan Young, former Corkscrew Swamp Sanctuary intern, a.k.a. "the Groom."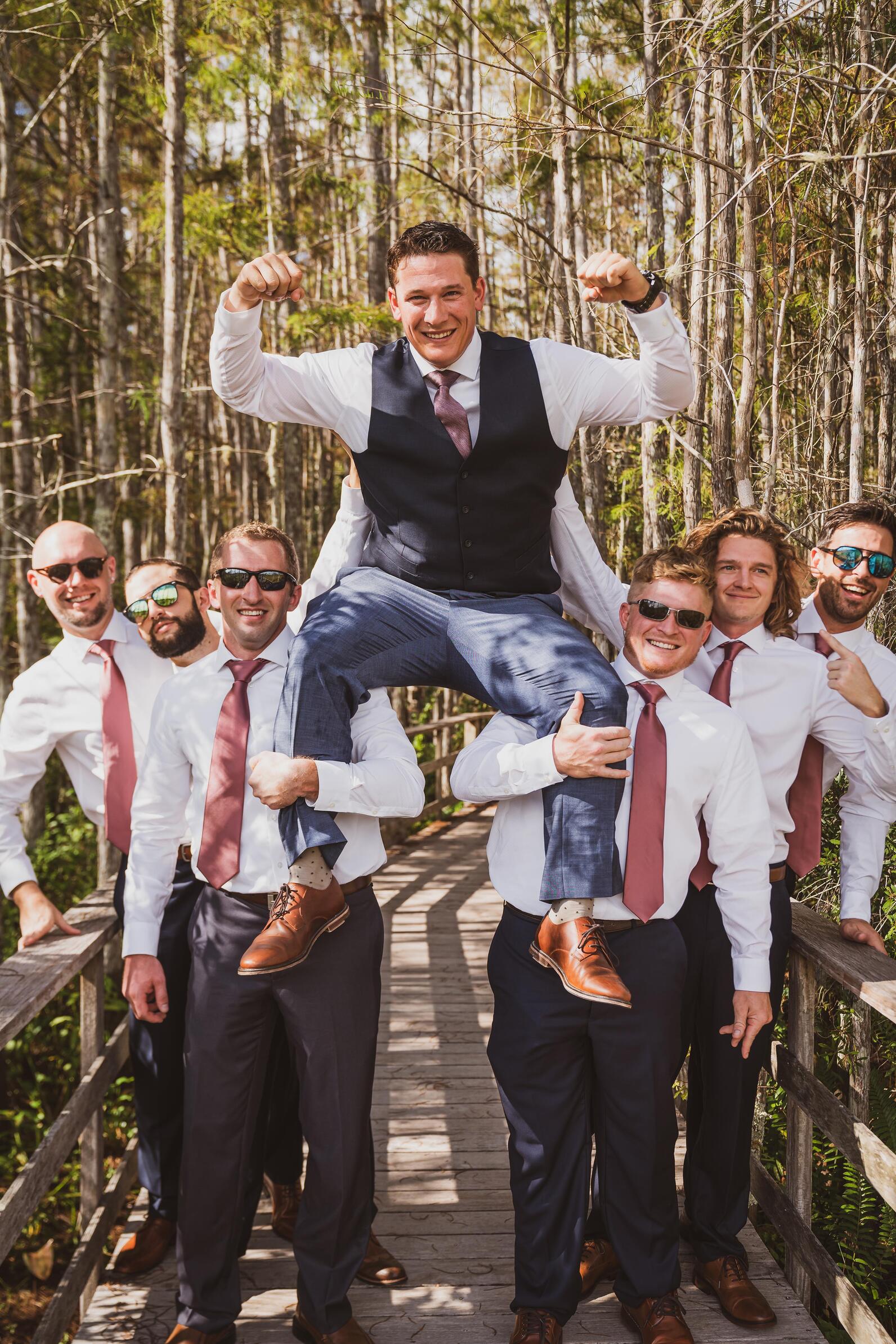 How you can help, right now