Program
Corkscrew Beginner Swamp Walk
A naturalist guided excursion off of the boardwalk.
Saturday, January 06, 2024
9:00am - 12:00pm Eastern Naples, Florida
Location Details
National Audubon Society's Corkscrew Swamp Sanctuary
375 Sanctuary Road West, Naples, 34120, FL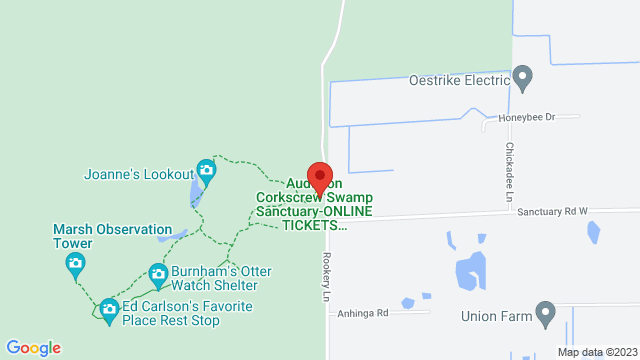 Have you ever wanted to explore Corkscrew Swamp Sanctuary, beyond the boardwalk on a swamp walk? Well, now is your chance!
Join us for and exciting opportunity to participate in one of our Beginner Swamp Walks! On this educational adventure, you can experience Corkscrew in a whole new way and visit a part of the sanctuary that few have seen before.
For these Beginner Swamp Walks, we will be walking up to 1 mile in about 2 hours. We will travel by vehicle to a remote part of the Sanctuary and walk through our wet prairie into the cypress forest. Water levels are deeper in the fall and early winter (up to 2 feet deep) and usually much shallower in the spring (ankle deep).
You will explore the cypress forest with your guides, who will teach you about our watershed, the importance of the habitats we encounter, and the work we are doing to preserve and protect the Sanctuary. We will keep a lookout for plants such as rare orchids, wildflowers, shrubs and trees, bromeliads and ferns, and birds and other wildlife. We will also have a look at some of the aquatic wildlife.
Note that we will be walking through uneven surfaces with some roots, branches and logs to navigate through and around. Participants must be physically able to walk on uneven and sometimes difficult terrain through water and vegetation, step and/or climb over logs and branches, and be able to climb a ladder onto a vehicle. All participants must sign a liability waiver and must be at least 10 years of age to participate in this Beginner Swamp Walk.
Corkscrew Beginner Swamp Walk will begin at 9:00 a.m. and finish at 12:00 p.m.
Cost:
​Beginner Swamp Walks:
$100 for General Admission
$85 for Corkscrew Members
$70 for children ages 10 - 18
Participant limit: 10
​Tours meet at Corkscrew's Blair Visitor Center. Check in at our admissions desk. Meet your tour guide in the Blair Visitor Center 15 minutes prior to the tour.