Visit
Gallery Café Exhibits
Photographer Andy Owen's work is on display through March 30, 2020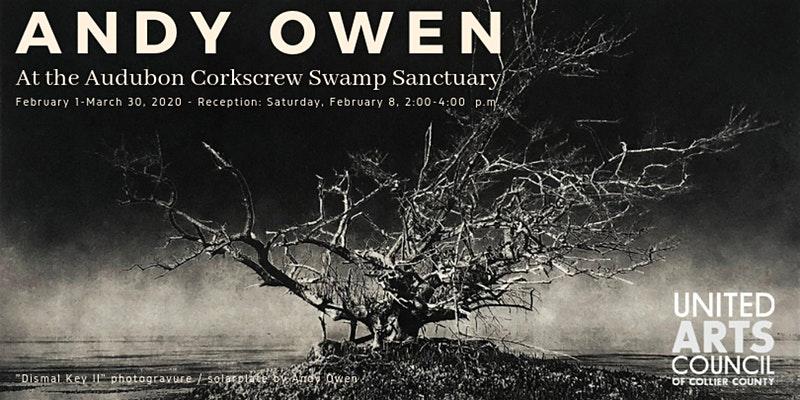 The photography of Andy Owen is currently on display in the Gallery Café inside the Blair Audubon Visitor Center at Audubon's Corkscrew Swamp Sanctuary. His is the third of four exhibits in the 2019-2020 Gallery Café Artists Series.
Current Exhibitor
February 1, 2020 through March 30, 2020:
Andy Owen
Andy Owen is an Associate Professor of Art at Florida Gulf Coast University. He earned a B.F.A from the University of Florida and a M.F.A from the University of Arizona, both in printmaking. Andy currently teaches multiple levels of drawing and non-toxic methods of printmaking at FGCU. Throughout his career, his work has received numerous awards and has been regularly exhibited in regional, national and international exhibitions.
Artist Statement:
My recent works are inspired by the 10,000 Islands off the coast of Southwest Florida. I often seek refuge in these islands. The peaceful isolation they offer feeds my spirit. These images are all solarplate prints, a form of photogravure using plates etched with sunlight and printed by hand using both intaglio and relief methods. The use of photography adds a nostalgic nature to the images, capturing a point in time as an uncertain future unfolds. In the channel markers I see reference points, offering a sense of direction and helping to navigate challenging times. Images of battered shorelines left behind in Hurricane Irma's path are rich subjects, the stripped trees revealing a skeletal dance of line while also serving as a reminder of the fragility of the ecosystem when faced with the overwhelming power of change.

Opening Reception for Andy Owen on February 8, 2020, from 2 to 4 p.m. Register in advance for the reception on Eventbrite
The Sanctuary's Café offers a perfect setting for all of these exhibits. The Café serves drinks, lunch and snacks so that visitors can enjoy the artwork while resting within a comfortable air-conditioned seating area that has high ceilings and a deck with a view of a pine forest.
Past Exhibitors
October 1, 2019 through November 29, 2019: Jo-Ann Sanborn
July 1 through September 30, 2019: 2018 Audubon Photography Awards
A touring exhibit featuring 12 spectacular bird photographs from the 2018 Audubon Photography Awards.
https://www.audubon.org/magazine/summer-2018/the-2018-audubon-photography-awards-winners
https://www.audubon.org/magazine/summer-2018/the-2018-audubon-photography-awards-top-100
April, May and June 2019: Leslie Peebles - Wood Block Prints
February and March 2019: Leigh Herndon - Direct Dye Painting, Rozome and Hot-Wax Resist
December 2018 and January 2019: Tara Funk Grim - Acrylic Collage
October and November 2018: Tim Parker - Figurative Abstracts in Oil, Acrylic and Mixed Media on Canvas
August-September 2018 RJ Wiley - Nature Photography​
May 2018: Gary Roche - Photography
February and March 2018: Victoria Hamachek - Wildlife Artist/Paintings
December 2017 and January 2018: Peter Gerbert - Wildlife Artist/Paintings
October and November 2017: Barbara Gurry Growell - Watercolor
August and September 2017: RJ Wiley - Nature Photography
June and July 2017: Jim Hoover - Photography
April and May 2017: Adorable Monique - Fine Art
Adorable Monique Biography and Gallery Exhibit http://adorablemonique.jimdo.com/
February and March 2017: John Costin - Bird Artist
John Costin Biography and Gallery Exhibit http://www.costingraphics.com/
December 2016 and January 2017: Donna Murphy - Abstract Nature Photography - Photographs of Tree Bark
Donna Murphy Biography and Gallery Exhibit http://www.modernearthmosaics.com/
October and November 2016: Jesse & Linda Waring - BirdWalk Photography – Nature Photography as Art
Jess & Linda Waring Biography and Gallery Exhibit http://www.birdwalkphotography.com/
June through September 2016: RJ Wiley - Nature Photography​ Rod J. Wiley Biography and Gallery Exhibit​ www.rjwiley.smugmug.com
April and May 2016: Peggy Macnamara - Watercolors and Books ​ Peggy Macnamara Biography and Gallery Exhibit ​ http://​www.peggymacnamara.com/
February and March 2016: Beth Erlund - Paintings and Books​ Beth Erlund Biography and Gallery Exhibit​​ http://www.erlundjohnsonstudios.com/Beth/
December 2015 and January 2016: Pedro and Brian Zepeda - Seminole Artists and Historians https://www.facebook.com/pedrozepedaseminole
August and September 2015: RJ Wiley - Nature Photography www.rjwiley.smugmug.com
June and July 2015: Maurice Barancik - Photography Mauric Barancik Exhibit
April and May 2015: Josh Manring - Photography Journeymangallery.com
February and Mach 2015: Dennis Goodman - Photography http://dennisgoodmanphotography.com/
December 2014 and January 2015: Mac Stone - Photography www.macstonephoto.com/
October and November 2014 Gordon Hartshorne - Woodcut Prints www.gordonhartshorne.com/
August and September 2014: Rosemary Allen - Paintings http://fineartamerica.com/profiles/rosemary-allen.html
June and July 2014: RJ Wiley - Photography www.rjwiley.smugmug.com
How you can help, right now